Eco-Friendly Lodging & Camping

Stream-Front Wilderness Campsites, Cabins / Cottage, & Lodging
Located off U.S. Rt. 50, 3 miles east of Mt. Storm, WV
Cabin D Profile
Water front and water view cabins in West Virginia


This 12x24' has a great setting overlooking
a rugged part of the creek

plus a wonderful firepit area
with 2 of our benches.



Cabin D: Setting
Cabin D is situated at the foot of the hill down from Cabin C, and it stands at the head of the hidden winding path into Sector 2. Cabin D has a solid foothold on a high hilltop overlooking a particularly rugged, boulder-filled part of Abram's Creek, and its shaded position is fortified within a naturally occurring stronghold of forest and wild green.





Cabin D: Features and Capacity:
Cabin D is 12x24' with 2 upper lofts. Fully furnished Cabin D has a queen bed and 2 twin mattresses in a bunk bed arrangement on the main level, 2 twin mattresses in the back loft, and a queen mattress in the front loft. It will sleep 6 to 8 and can park either several vehicles or a vehicle w/trailer in tow.



Our cabins are made by Mennonite craftsmen located in Bedford, PA!



Cabin D: Amenities

Cabin D has both a microwave and a refrigerator


The interior space is furnished with beds, chairs, a table, and other necessary furniture


The cabin includes a 2-burner propane tabletop stove that uses the (approximately) 1 lb bottles


Just outside the cabin is a firepit for your campfire, a charcoal grill, and a picnic table.


This cabin has a dedicated porta potty reserved for your sole use during your stay.


Firewood is only $5 for a 5 gallon bucket load, and can be picked up near the Lodge House.


The campground Shower House is located just outside of the Lodge House, across from the firewood pile.


Wi-Fi Internet and Landline Telephone services available on the front porch of the Lodge.


You can also purchase charcoal briquettes, fire starter, lighter fluid, and 1lb propane canisters at the lodge!

Electric / Heaters Cabin D has full electric, lighting, insulation, and heat.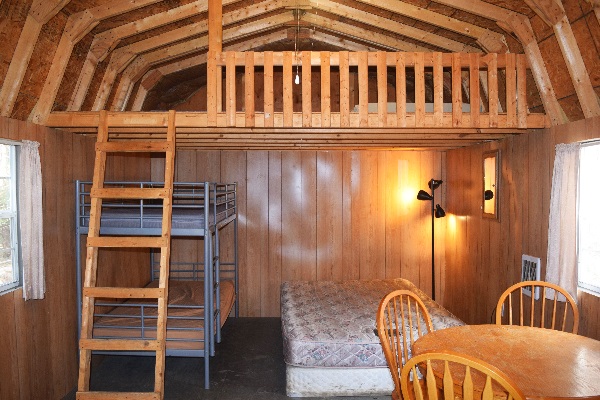 A nicely furnished and comfortable cabin
Campground Etiquette
Campground Check-In Time: 3:00pm / Check-Out Time for cabins is 12:00 noon.
No generators allowed in the campground.
Dogs on leashes are okay at all campsites, cabins, and the retreat cottage. Please do not allow dogs to excessively during Quiet Hours (10:00pm - 8:00am).
Please pick-up / carry out all trash and unload at our trash dumpster at the lodge house.
Please return fire pit benches and picnic tables to their proper locations.
What to bring for your stay at Cabin D
pillows, fitted sheets & blankets or a sleeping bag.
pots / pans /plates cooking & eating utensils
Bring lanterns / flashlights for walking around at night.
Bring 1 lb. propane canisters for using the 2 burner propane stove, or buy them here.
Bring your own food / drinks and other camping supplies.
Available for purchase on site:
Charcoal Briquettes
Lighter Fluid
1 lb Propane Bottles
Firewood
Fatwood© Firestarter
AA / AAA Batteries
Flashlights
No smoking in Cabins

Campground Registration / Check-In On-Site:
Please register at the Lodge House, sign Liability Waiver (click here), and pay (if not pre-paid.).


Cash, Check, or Credit on-site.
Contact us for questions and further help: 304-825-3555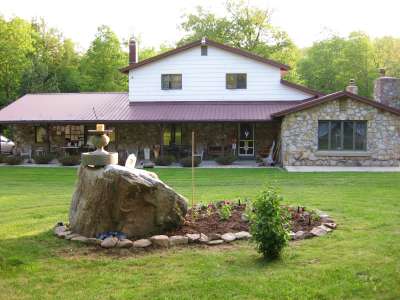 Check-In / Registration at the Lodge House
Located on Front Porch. Please ring the doorbell on arrival!
| | |
| --- | --- |
| The steel cargo building shower house | located close to the Lodge House |

Hot showers
fueled by propane

Sinks and mirrors, outlets, benches
and hooks to hang your towel / clothes.
www.AbramsCreek.com Home Page