Eco-Friendly Lodging & Camping

Stream-Front Wilderness Campsites, Cabins / Cottage, & Lodging
Located off U.S. Rt. 50, 3 miles east of Mt. Storm, WV
Cabin Z Profile


Cabin Z sleeps 3 to 6 (includes 1 loft).



River access, across the main driveway and down a flight
of steps,is available to guests at this cabin. This
is a closeup while river is low.

View from the back of the cabin, showing the loft.

View from the front door.
Cabin Z Setting: This is our newest cabin, and different from the others in several ways. It is not in a secluded area, it is our only cabin with Wifi, it is our most spacious cabin, and is the only cabin that accesses the river area behind the lodge.

Cabin Z Features: Cabin Z is 10x28', has full electric, lighting. It also has a small refrigerator and a sleeping loft. A port-a-potty is assigned to this cabin. Cabins do not have plumbing.
Fully furnished Cabin Z sleeps 3 to 6 people: 3 queen beds, 1 in front loft with 2 on main level.
See Cabin Details below for what is included and what you should bring.


Across the main driveway and down a flight of steps,this
hammock overlooks the river. There are also benches,
a loveseat, and lots of level rocks to sit on and enjoy the water flowing by!

Across the main driveway and down a flight of steps, river access is available
to guests at this cabin. No other cabins use this space. Visible are the
hammock, charcoal grill, bonfire area, and two of the picnic tables.
Cabin Details:
full electric service
microwave ▪ refrigerator
beds, chairs, table, and other necessary furniture
Just Outside the Cabin:
▪ outdoor charcoal grill ▪ picnic table

Nearby Cabin Z:
port-a-potties ▪ showerhouse
fire pit
phone at main Lodge house porch
What to Bring for Cabin Z:
pillows, fitted sheets & blankets or a sleeping bag.
pots / pans /plates cooking & eating utensils
Bring lanterns / flashlights for walking around at night.
Bring 1 lb. propane canisters for using the 2 burner propane stove, or buy them here.
Bring your own food / drinks and other camping supplies.
Available for purchase on site:
charcoal briquettes ▪ lighter fluid
1 lb propane bottles ▪ firewood
No smoking in Cabins

Campground Registration / Check-In On-Site:
Please register at the Lodge House, sign Liability Waiver (click here), and pay (if not pre-paid.).


Cash, Check, or Credit on-site. No change available.
Security Check of all sites / payments / signed forms nightly.
Contact us for questions and further help: 304-446-5383, 304-825-3555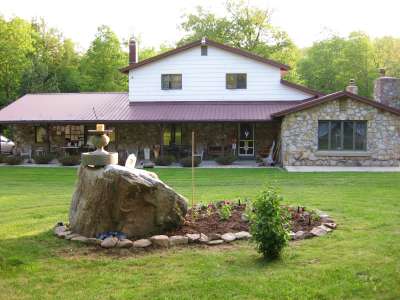 Check-In / Registration at the Lodge House
Located on Front Porch
| | |
| --- | --- |
| The steel cargo building shower house | located close to the Lodge House |

Hot showers
fueled by propane heat

Sinks and mirrors, outlets, benches
and hooks to hang your towel / clothes.
www.AbramsCreek.com Home Page